This report drills down into each and every journey that the vehicle has done within a chosen time period. Each journey will detail the start and finish destinations/time along with the journey duration and mileage.
It will allow you to view every time stamp that the unit updates at the time of the journey and will highlight location and the speed at the time of the location stamp.
Very useful for companies who require a data trail for deliveries/meeting customers as they can see where exactly the vehicle has been and at what time they arrived. This report can also highlight whether unnecessary journeys have been taken and is very useful if you are looking to optimize the routes of your vehicles.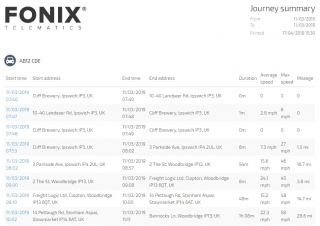 Click image to enlarge