This report is very useful when you are interested in finding out how long your drivers have been at a particular destination. Once customer/client/supplier geo-fences are set up (geo-fence is a specific area that has been ring-fenced off) the report will identify the time they have arrived 'on-site' until they leave, it will then show you the length of time that they spent 'on-site' giving you a very user-friendly report and a snap shot of their daily activity, you can easily identify if they were late, left early for the day or if they did not spend enough time on-site.
Ideal for the construction industry as employees often go straight from home to sites and Managers need to be assured that they arrive on time and do not leave the site for any reason. Vending companies find this particularly useful as they can ensure that their staff have spent adequate time at each location carrying out their necessary tasks.
Businesses that benefit – Construction, Vending, Homecare, Delivery Companies.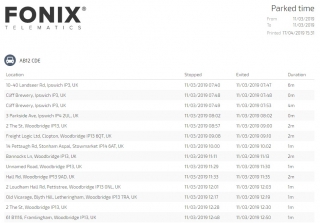 Click image to enlarge